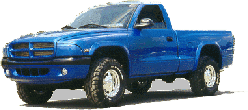 Here are some illustrated how to articles that members have sent in. If you have one that you would like posted here please send it to: dak@dodgedakotas.com

Painting Your Door Handles

This is a new feature soon to be active. We will be doing product reviews for the Dodge Dakota community on many popular products. If you know of a product you would like reviewed, or you are a manufacurer and would like to have a review done on one or more of your products please send an email to:

Do you have a product, website, or service which you would like to promote here on DodgeDakotas.com? If so, there are now low cost, highly effective targeted advertising packages available. One may be perfect for you. See the Pricing Schedule or call Virtual-Masters, Inc at 201·635·9000 for more information.
Help keep this site smokin'. Donations can be made to:

Virtual-Masters, Inc
C/O Mark Hryckiewicz
470 Sussex Road
Wood-Ridge, NJ 07075

Message Boards are a great way to share information with other Dodge Dakota owners on the web. Each month, hundreds of thousands of people come to the message boards at DodgeDakotas.com to share their useful knowledge. The boards are now searchable so you can spend less time getting the help you need. There are two formats to the forums. There are member forums which you must be a member to view and/or post to. There are also open forums. The open forums are open for everyone to enjoy.

Would you like to see your Dodge Dakota on the web? Now you can show it off to the world on DodgeDakotas.com and have it proudly displayed in the Viewer's Ride section. Photos with a maximum width of 760 pixels and be in .jpg format can be submitted to dak@dodgedakotas.com Don't forget to include any information you would like included below your photo.

Do you have a Dodge Dakota related website and care to generate more traffic to it without the cost of purchasing advertising? If so, take advantage of the banner exchange program. The more banners you display on your site, the more your banner is viewed by others on their site. Everyone wins! And best of all, Its Free!!! Sign up now to take advantage of this program.

If you are interested in Dodge Dakotas.com T-Shirts, join this list to recieve information on this opportunity.